Company:
BMTI PRECISION MECHATRONICS CO.,LTD
Address:
No.4 Wangjing Road, Chaoyang District, Beijing, China
Postcode:
100102
Email:
globalsales2013@gmail.com
GW745P CNC EDM Machine
Description
GW745P CNC electric discharge machine is suitable for machining middle-large size of dies and other parts, whose host is separated with the electrical cabinet. CNC EDM machinery is widely used in the fields of mould production for electronic component, automation, information and communication technology, household appliances. And it also plays an important role in facilitating the parts' production in aerospace industry, automobile industry, dental industry, and watch and jewelry industry and many other fields.
Products Component
The electrical discharging power is divided into host computer and power pulse control system. Machining tool consists of mechanical bed, pulse power, control system, etc.
1. Host computer is the core of the whole system, which is responsible for running the exporter system and monitoring the whole system. This part is based on the new type of embedded industrial process control computer (IPC), which is stable and reliable. And it can be upgraded following the advancing of the electronic industry.
2. Power pulse control system is in charge of generating and adapting the pulse energy, which takes Adaptive Control Algorithm to assure the purity of electrical pulse. This part is composed with micro-controller, programmable logic devices, power devices and other devices.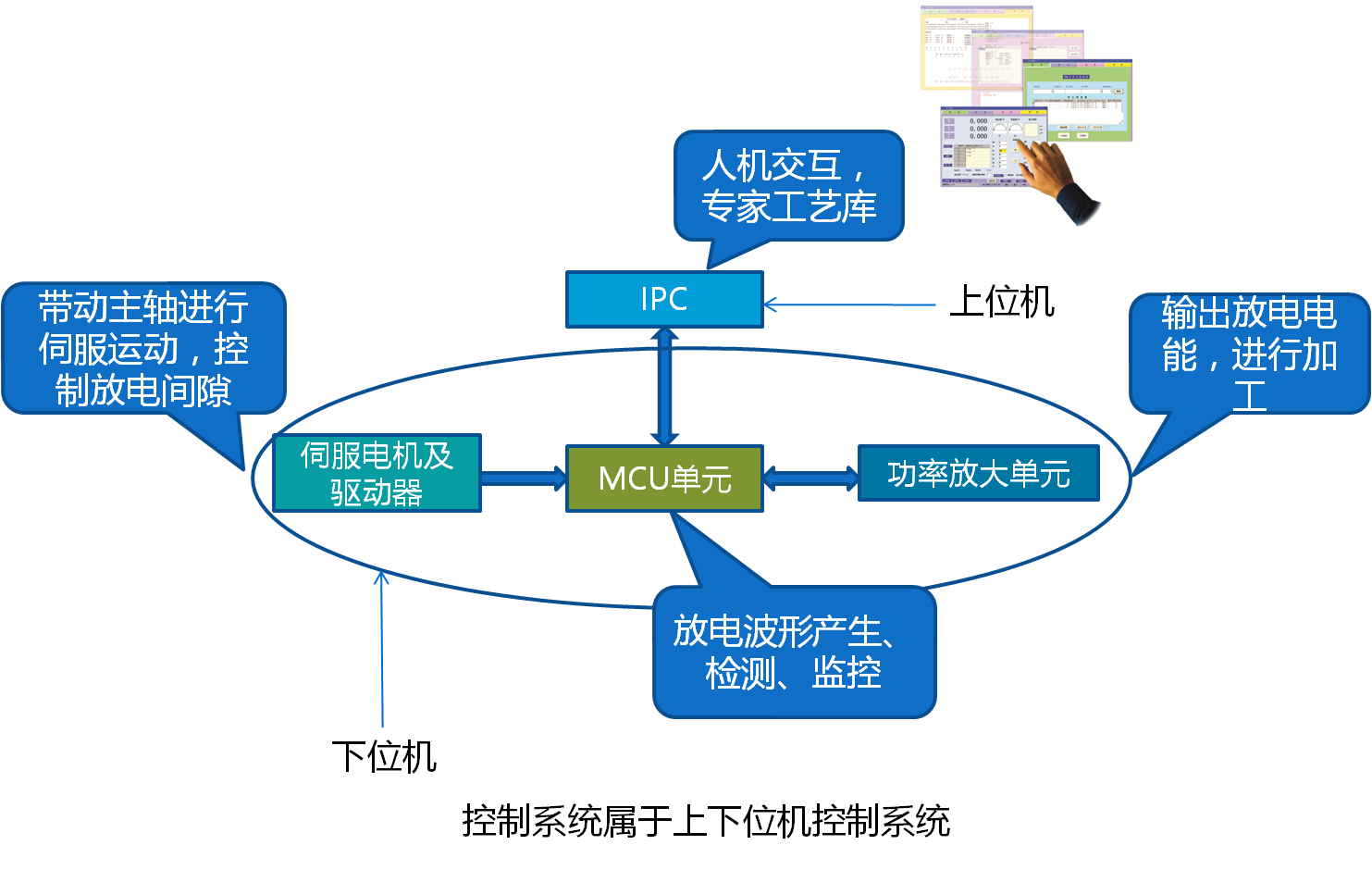 Structure of the whole system includes
1. IPC (human-computer interaction, expert process database)
2. Servo motor and driver(drive the spindle do servo motion, control the discharge gap)
3. MCU unit (generate, detect and monitor the wave of electrical pulse)
4. power amplifier (output the electric energy for processing).
Advantages of CNC Electric Discharge Machine
1. The system has rich expert technology database and processing strategies.
2. Real time display of processing parameters and status.
3. The expert processing system can generate entire processing parameters from rough to finishing machining according the user's preference to machining accuracy or speed.
4. Discharge sensitivity setting: The adaptive control algorithm can implement adaptive adjustment to the discharge state, to reduce the abnormal discharge and improve the quality of processing.
5. The system can handle multistage complex processing. The finishing condition of processing can be set as timing machining or machining as a given depth.
Characteristic of CNC Electric Discharge Machine
1. Simple and friendly system interface helps to operate more accessibility.
2. Oriented programming based on the expert system is easy to handle, Keeping the user free of professional knowledge.
3. Real-time status display, intelligently monitoring the discharging progress according user's setting.
4. Using isopulse power supply technology, the CNC EDM machinery can control every discharge pulse power precisely, with advanced spark monitoring system.
5. Control and detection every discharge spark, processing fine machining and complex structure parts.
6. Energy-saving and environment-friendly goals are achieved by replacing current-limiting resistance with power inductor, meet the trend of green technology.
7. Standard module design is convenient for expanding energy.
8. Unique pulse character has outstanding performance on processing cemented carbide.
Parameters of CNC Electric Discharge Machine




GW745P

Machine tool

Machine weight

Kg

2000

Overall dimension

mm

2100 × 1600 × 2200

Stroke

X axis

mm

450

Y axis

mm

350

Z axis

mm

220+240

Distance between tip of spindle and table surface

mm

240 to 700

Work range

Worktable dimension

mm

360 × 182

Oil tank dimension

mm

1050 × 615 × 450

Maximum weight of electrode

Kg

200

Maximum weight of work piece

Kg

1200

Oil box 

Capacity

L

500

Filter



2 paper filter element

Pules power supply

Type



Isopulse power supply

Peak current(standard configuration)

A

64

The best surface roughness(Ra)

μm

0.4/0.15

Minimum electrode wear



0.1%

Maximum machining efficiency 32A (64A)

mm³/min

180(400)

96A(128A)

mm³/min

600(800)

 



 

External power grid

Three-phase input voltage

V

380

 

Consumed power 32A, 64A, 96A, 128A

KVA

3,5,7,10

Optional accessories

Add 32A, 64A, 96A, 128A pulse power supply, Super fine module, Low loss module



 

Dielectric fluid cooling device



 

Micro fine pulse power supply



 

Translational head(NC/manual operation)



 

Related Products